Nothing beats an outdoor kitchen when it comes to entertaining. Your guests can linger over drinks at the counter while you throw together a fresh meal, allowing everyone to enjoy the view. After all, what good is a house with a view or great outdoor space if you can't entertain outside?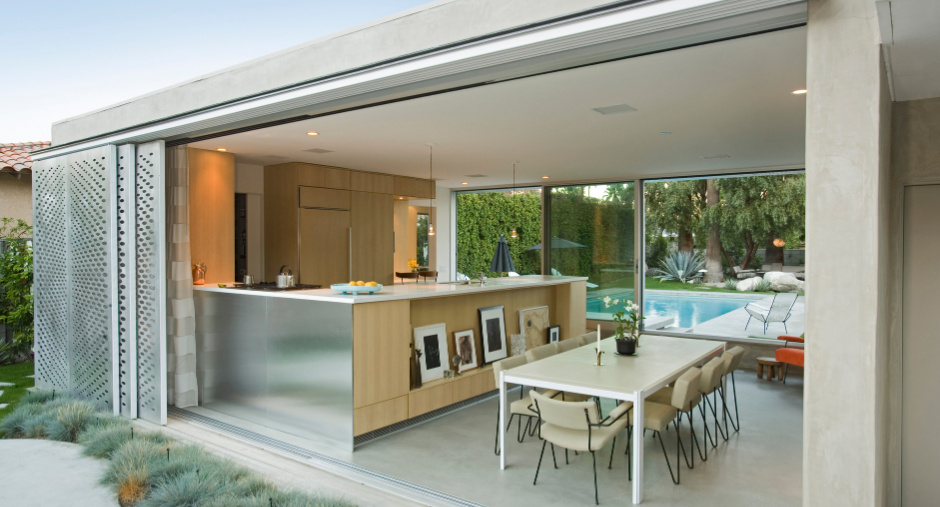 But if you live on the coast, choosing a countertop to withstand the sun and salty air can be challenging. Not all materials work well outdoors. Here is a guide to help you choose the best outdoor countertop material for your outdoor kitchen.
Stone
It makes sense that naturally occurring stone would work well for an outdoor countertop, but not all stones are the right choice for a kitchen. Some stones stain easily, absorb odors, or discolor in the sun. Both granite and soapstone, however, work well for outdoor kitchens.
Granite is a classic choice for any kitchen because of its variety of colors and durability. You do have to seal granite periodically, but once sealed, it resists stains and the sun. Watch out for heavily-veined granite, which may have epoxy and fillers that will stain in the sun.
Soapstone? is another quality choice for stone countertops. It is naturally non-porous, so it resists stains even without sealing. Soapstone only comes in a limited range of blues and grays, but if those colors work with your design, it won't be a problem.
Quartz
Standard quartz is typically not an optimal choice for use in an outdoor kitchen. When constantly exposed to direct sunlight, quartz slabs may experience color change and warpage. However, with new product innovations, there are now UV resistant quartz options available in the market that can be used outdoors! Two examples are the new Caesarstone Solaris Outdoor Collection
which just launched in November 2020 and the Diresco Bio-UV Quartz line which is warranted for outdoor use.
Dekton
Dekton is a unique category of ultracompact surfaces that is great for outdoor use. Dekton is a sophisticated blend of raw materials used to produce the latest in glass and porcelain as well as the highest quality quartz surfaces. The benefits that make it a great choice for outdoor projects include: highly resistant to ultra violet (UV) light and will not fade or degrade over time; high resistance to fire and heat, stain proof, and thermal shock proof from extreme heat or extreme cold. It comes in a wide variety of colors and thicknesses to suit a wide range of design needs.
Tile
Tile countertops are a versatile option for any kitchen, indoor or out. Tile comes in so many materials, colors, styles, and prices that you can find something that matches your look and fits your budget. If you go with tile, work with a professional installer to make sure you choose a material that can hold up under the sun and salty air and a grout that will resist or hide stains.
Are you interested in an outdoor kitchen for your backyard? Reach out to Designer Marble & Granite. Our design experts can help you select the best outdoor countertop material that will stand up to the elements while you entertain.
Poured Concrete
Poured concrete outdoor countertops are gaining in popularity. Concrete gives a clean, modern look and comes in limitless color choices. Because the concrete is poured, not cut, you can design the countertop in any shape or customize it however you like.
Concrete countertops are very practical, which makes them an excellent option for outdoor kitchens. They can withstand the heat, wind, and rain, and cleanup is a breeze. Improperly installed concrete counters can crack, so be sure to choose an experienced professional to install them.
Stainless Steel
While a little pricey, stainless steel countertops work well for outdoor kitchens as they can stand up to the salty air and will never rust or stain. This style works best if you have a very modern look to your outdoor dining space. One drawback to stainless steel counters is that they can be very hot to the touch on a sunny day.
Designer Marble & Granite can help you select and install the right countertops for your outdoor project. Call us at 941.365.4209 or email us at contact@designermarbleandgranite.com to learn more about your design options and how we can help. Visit our website at www.designermarbleandgranite.com.