Granite countertops are a durable and sophisticated option, but they have a porous composition and do require some degree of care to maintain their shine and resist damage.
If you have any granite surfaces in your kitchen or bathroom, you've come to the right place. With more than 30 years of experience, our countertop specialists have put together a comprehensive granite care guide. Here's everything you need to know to about how to care for granite countertops.
Seal Your Granite Counters Once a Year
To keep your granite countertops in tip-top shape, it is best to have them sealed at least once a year. Our team can apply a granite sealer to prevent staining and chipping. However, if you use your kitchen a lot or have used bleach-based cleaners in the past, you may need to apply the sealer more frequently. How can you tell if your granite countertops need new sealant?
Just drop water on the surface. If the granite darkens and any of the water is absorbed, it is time to apply a new sealer. If the water beads, your surface is still good.
Avoid Acids and Harsh Cleaners
Granite can be sensitive to acidic liquids and harsh cleaners as, like many natural stones, acid can corrode the outer layer. That also means that acidic liquids, including many fruit juices, are more likely to stain the surface.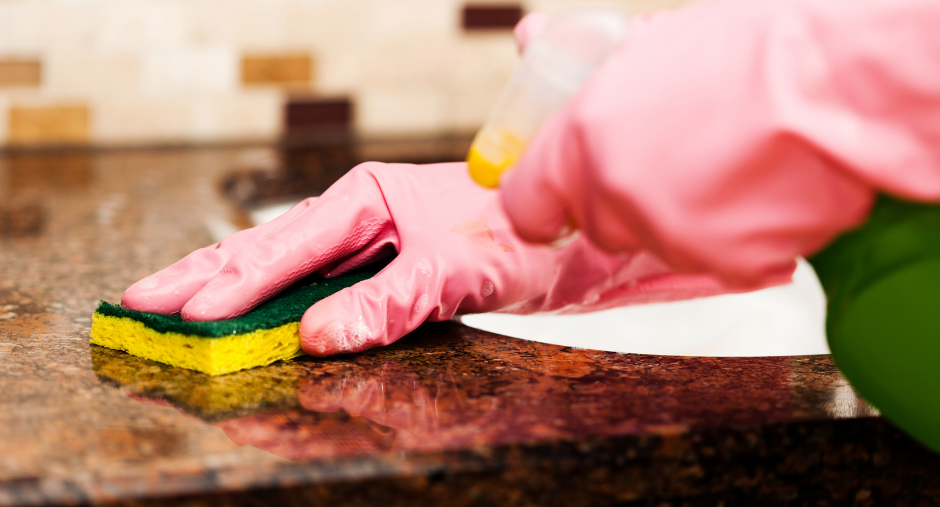 Be sure to clean up any spills as soon as possible and use a chopping board or a rubber mat to prevent direct contact when cutting acidic foods with juices, such as tomato. When cleaning up spills, blot rather than wipe the surface. Only clean your granite countertops with warm, soapy water, or a 50/50 mix of alcohol and water (if you need to disinfect the surface). Don't use bleach (including Clorox wipes), Windex, or vinegar.
Use Soft Cleaning Materials
Another factor that can affect the longevity and appearance of your granite counters is the type of cleaning tool you use. Do not scratch the surface with bristled tools, steel wool, or rough sponges. Opt for a soft cloth such as microfiber or the soft side of the sponge to quickly wipe up dirt or spills.
For oil-based stains, you can make a paste of baking soda and water. Cover the stain with the paste, and tape down a layer of plastic wrap, and let it sit overnight. Wipe it clean in the morning with warm water. For water-based stains, swap the water out for hydrogen peroxide.
Need Granite Counter Maintenance or Replacement Services? Call Us Today
These simple tips on how to care for granite countertops will help keep your countertops looking their best, but if you find yourself in need of new counters or your current counters are due for a seal, we're here to help.
At Designer Marble & Granite, we simplify granite countertop maintenance and offer quality service and results. Reach out to us today at (941)365-4209 for a free estimate. Based in Sarasota, we serve the entire Tampa Bay area.