Designing an outdoor dining area in your backyard can provide an additional space to have friends or family over. Guests can enjoy your cooking along with the warm summer air, the scent of flowers, and the glow of soft lighting.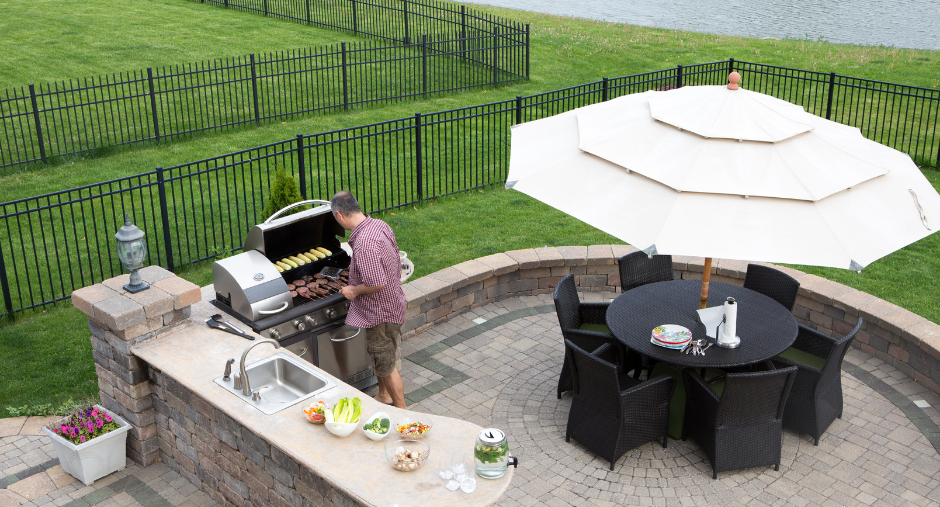 Designing an outdoor dining area doesn't have to be a massive production. Let's explore some key aspects that will help you transform your backyard into an inspired outdoor oasis.
1. Make a plan
Start by thinking about how you want your outdoor dining area to function. If you have dogs or kids, you'll want to keep a designated spot where they can still run around. If you have a pool, a barbeque or cooking appliance should probably be far away from it. Measure your yard and divide it into zones such as an outdoor dining area, firepit, outdoor kitchen, and a spot for activities. Or if you have a smaller yard: bar and prep area, garden lounge, and open yard.
Tips:
● Wherever people are going to be seated or gather—it should be the central point.
● A dining area doesn't have to be a sit-down table; it can also be a high counter around the grill.
Come up with a combination that will be both exciting and useful to you and your family.
2. Incorporate seating
Is this more for family meals or hosting the neighborhood party? When deciding where to seat your guests, take the layout into account. If you'll be incorporating a bar, consider adding a durable countertop made of customized stone.
Purchase furniture that you won't need to replace for a while. If you're going to have squishy seat cushions, plan to have an outdoor storage area to protect them from bad weather. The right storage trunk can add to the aesthetic appeal of your new outdoor dining space.
Tip:
● The more seats, the better. Not only can you accommodate last-minute parties, but your guests will feel more relaxed the more room they have.
3. Cultivate a well-lit atmosphere
A tasteful choice of lighting can shape the ambiance of your backyard. Create a gorgeous glow around your outdoor dining area with the kind of soft lighting that you'd get from solar-powered hanging light bulbs or strings of twinkle lights. We specialize in creating a gorgeous glow around your outdoor dining area with custom under-counter lighting!
Tip:
● Look for warm white colors with a yellow hue, more than cool whites with a harsh blue undertone.
4. Fire up the grill
The showpiece of an outdoor dining area will be the grill, stove, or smoker. Like in the kitchen, your cooking appliance will be the focal point of the outdoor dining arrangement, so be strategic when deciding where it goes.
Tips:
● Choose what appliances you want in your outdoor kitchen area (bbq, fridge, sink, etc.), and that will dictate how much cabinetry and countertop you'll need.
● Consider your climate and the durability of the materials you use.
Countertops made of granite is perfect for an outdoor dining area, as it is heat resistant, scratch-resistant, endures direct sunlight, rain, and hot plates. It also comes in an array of natural colors and patterns, creating a classy and sophisticated accent for your guests. Now there are also new quartz products specifically designed for outdoor use, as well as other man-made options such as sintered stone and recycled glass tops that work outside.
If you need help making your dream come true, we can customize your countertops or tiling to truly make your outdoor dining area the perfect getaway. Family owned and operated since 1986, we have the experience needed to bring your vision to life. Contact us for a quote so you can start planning the perfect outdoor dining area.