Floridians love being outdoors and they love to cook, so now is a great time to update that tired grill area and create a beautiful outside space for the whole family to enjoy.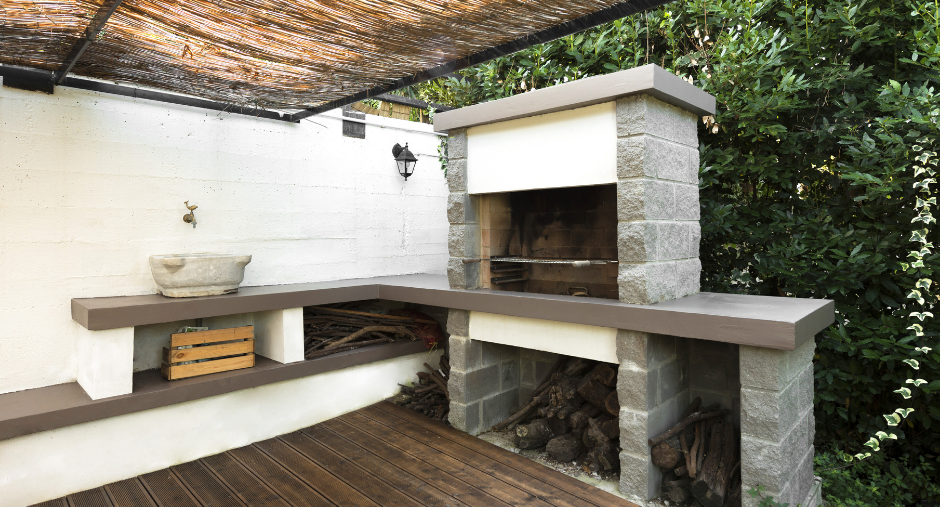 Don't let the many different outdoor kitchen designs overwhelm you. The specialists at Designer Marble & Granite have compiled a list of the top ten ideas for outdoor kitchens to help you make your choice.
Sweet and Simple
Outdoor kitchen designs don't have to involve massive renovations. They can be as simple as adding a cooking area with sink and stove to an existing or newly constructed patio. Top things off with a wooden pergola complete with lights and you've got a fun space your family will love.
In or Out
More substantial outdoor kitchen designs blur the boundaries between interior and exterior. The style of the house extends outside, with similar cabinetry, surfaces, and trim tying elements together, along with a roof to protect everything from the weather.
Rustic
Rustic outdoor kitchen designs are built around natural elements, such as an outcrop of rock or a natural-looking pool, hewing rough stone to house appliances or a pizza oven, and perhaps using a shade tree as a roof.
Monotone
Granite counters, white cabinets, and stainless steel appliances make a stylish statement. Soften the look with comfortable seating and an ample eating surface for enviable outdoor kitchen ambiance.
Contemporary
Steel and glass look as beautiful outside as in, giving outdoor kitchen designs a touch of minimalist chic, especially when opening onto a glassy pool of water.
Mediterranean
This look means tiles, and lots of them. From flooring to countertops and even the roof, Mediterranean outdoor kitchen designs are resilient, beautiful, and just what sunny Florida residents need to enjoy their outdoor kitchens with flair.

A Taste of the Tropics
Make a beautiful pool view a feature of your outdoor kitchen design. Add stone floors and a wooden roof with ceiling fans for a reminder of the tropics while people relax before dinner.

Beachy

Natural stone, sun-bleached wood, and roughly woven materials give outdoor kitchen designs the relaxed feeling of a day at the shore.

Keep Things Cozy

Fireplaces captivate the attention, and that includes outdoor kitchen designs. Housing appliances and cabinets in fireplace stone will bring an elegant warmth to your space on even the chilliest nights.

High-tech Heaven

Building a kitchen outdoors doesn't mean you can't have it all. With state-of-the-art appliances, smart lighting, and every chef's favorite marble and wood block countertops, outdoor kitchen designs can bring haute cuisine to your own back yard.

Custom Design and Installation

The specialists at Designer Marble & Granite can help you get the most out of your outdoor spaces.

Making customers happy in Sarasota, FL, since 1986, Designer Marble & Granite is ready to hear from you by phone 941-365-4209 or by email at contact@designermarbleandgranite.com to help make your outdoor kitchen design dreams come true.