Coastal design is reminiscent of a relaxing summer beach with its soft, light tones, clean lines, and plenty of open space. When done right, a coastal-style kitchen will remind you of a warm, breezy day at the seaside without any obvious elements like seashells or anchors.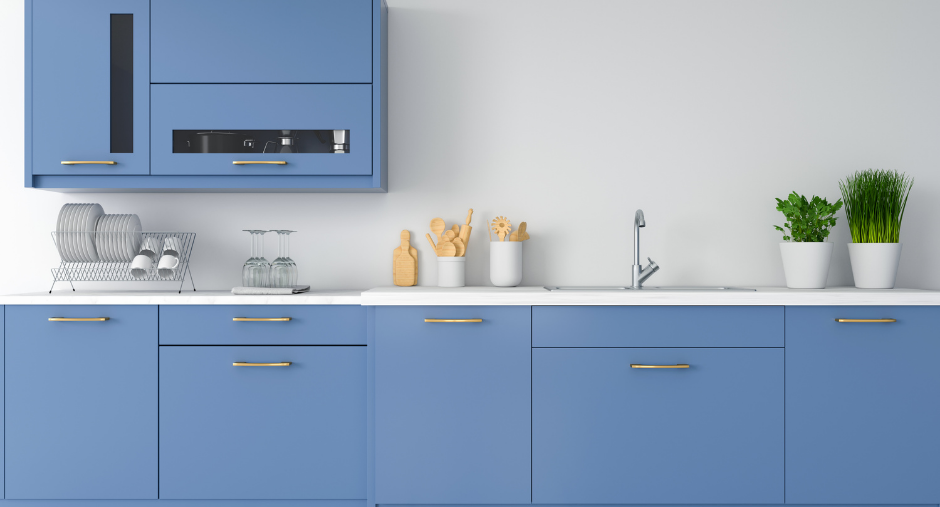 With this style, the key facet is in the color palette, which takes inspiration from the natural environment of sea, sand, and beach rock. This translates to plenty of white, muted earth tones and elements of blue and green.

So, what countertop colors should you choose for a coastal look?
White
You can never go wrong with white countertops. White will give your space an unencumbered, clean look and harmonize with any cabinet color you choose.

White can be crisp or muted, solid, or with elements like veining or flecks. In the latter case, solid white cabinets are a good choice to complement your countertops.
Natural Tones
Light muted greys, browns, or beige tones will channel the ambiance of soft sand and weathered driftwood. You can go for solid or opt for a uniquely patterned granite or marble countertop.
White, off-white, or light gray cabinets will usually look best with neutral-tone countertop colors.
Green
Soft shades of green are reminiscent of kelp, sea glass, and beach grass. Natural patterns of waves and swirls, like those in light green marble, enhance the sea-inspired feel of this color palette.
Beach Blues
If you want a bold, striking kitchen design, you may want to go for blue countertops reminiscent of the deep ocean. Think of a blue granite slab with a wavy pattern that looks like a stretch of solidified sea.

Alternatively, if your kitchen space is limited and you want to expand it visually, you might opt for softer countertop colors like light turquoise.
Mixed Colors
Some people who want a truly unique look for their coastal-style kitchen will go for recycled glass countertops, incorporating blue and green shades. A cleverly chosen slab can look like a stretch of white sand dotted with sea glass.

In recycled glass countertops, the glass is combined with resins and pigments to make them similar to stone. They are durable, non-porous, and resist heat and stains.

If you go for countertops with a flecked, dotted pattern, solid white cabinets are hands-down the best choice for a harmonizing design.

The countertop edging will play a part in your coastal design as well. You might choose a rounded edge for a soft natural look, a straight edge for crisp elegance, or even a rough-edged countertop for a non-standard, striking appearance.
Designer Marble & Granite: Quality Countertop Since 1986
Based in Sarasota, FL, we are a family-owned one-stop-shop offering you a wide selection of prime countertops in granite, marble, quartz, and other top-quality materials. We are committed to giving you outstanding service and the best products on the market.

We operate in Bradenton, Longboat Key, Nokomis, Osprey, Sarasota, and surrounding areas. Call us at 941-365-4209 or contact us through our website for more help choosing countertop colors.