If you're searching for a useful guide about which types of countertops are easiest to sanitize in your home, we're here to help. During the age of COVID-19, we understand if your household members have become increasingly conscious about how to keep the house a hygienic, safe place.
Countertops are busy surfaces that need frequent, thorough sanitation. Because we use countertops regularly for cooking, it's crucial to think about what countertop materials are the easiest to clean and sanitize.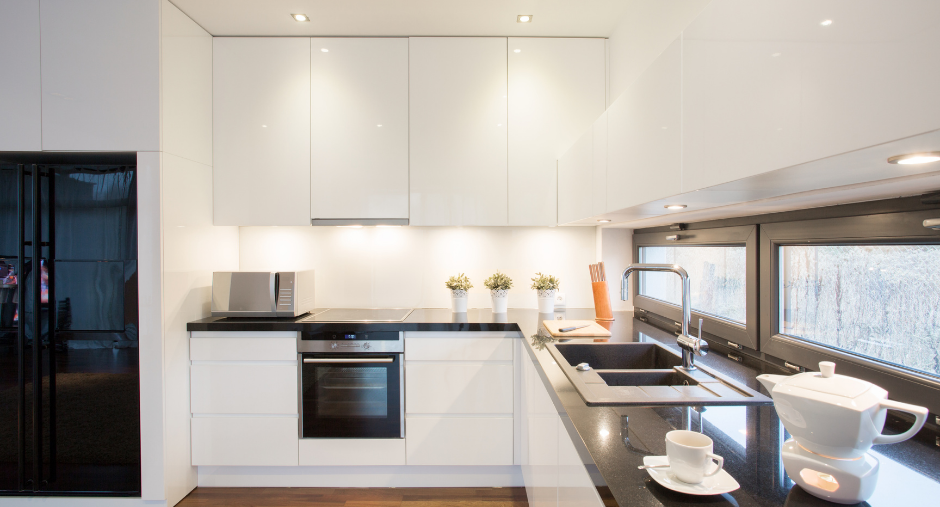 Unsurprisingly, different types of countertop materials require distinct cleaning methods. Knowing which products to use or how to approach sanitation can seem tricky. For this reason, we've prepared a list of the easiest countertop materials to clean and what you should know to sanitize them like an expert.
Quartz
Engineered stone (also known as quartz) countertops are one of the most convenient to clean among all countertop materials. The material is extremely durable and needs minimal maintenance. Compared to natural stone countertops, quartz is resistant to the rough and tumble of daily kitchen usage.
These popular countertops have a nonporous surface that does not stain or harbor bacteria, ensuring that liquids like oil, juice, or sauces can't trickle or become absorbed by the stone surface. Because of this popular countertop material's engineered design, you don't need to worry about chipping or cracking quartz's durable surface.
For daily sanitization, all that's required is a mixture of antibacterial soap and water with a gentle cleaning fabric. With a single wipe, you can easily sweep away surface dirt or food particles. Therefore, quartz is a highly low-maintenance material that is exceptionally easy to sanitize. To increase disinfecting power, you can create a solution by mixing four tablespoons of rubbing alcohol per cup of warm water with a few drops of dish soap. Spray the countertops, let the solution sit for a couple of minutes and wipe down. Rinse to remove any excess soap and wipe counters dry. You can have shiny, sanitized countertops in no time. Avoid using abrasive cleansers and those containing vinegar and acidic ingredients.
Recycled Glass
While they're not for everyone, there's plenty to love about recycled glass countertops. In order to create these relatively new countertop products, manufacturers pulverize glass and implant them into transparent resin. Not only are they extremely durable and aesthetically stunning, they are also very easy to sanitize.
Because the surface of recycled glass countertops is nonporous, cleaning up is especially fast and hassle-free. Recycled glass countertops can resist the growth of fungi, mildew, and mold. There's no need to polish or seal these low-maintenance countertops, saving you valuable time, energy, and money.
Cleaning a recycled glass countertop is very simple and demands little investment. To sanitize daily, wipe the surface with a sponge or rag and a tiny amount of mild soap. You can also use mild disinfecting wipes. Avoid using harsh chemicals or abrasive products like polish removers or toilet cleaners.
Laminate
Laminate countertops are popular because they are extremely low maintenance and made of hefty material. Fortunately, they're also effortless to clean. These countertops have a solid, nonporous surface, which is often considered the key to effortless sanitation.
Laminate doesn't require refinishing or sealing, so you don't need to purchase any pricey sealers or customized polishes to maintain these countertops. All of these factors ensure that laminate countertops are one of the most convenient countertop materials to clean.
Laminate countertops are best maintained when cleaned daily, and you can conveniently sanitize them with only a soft sponge dampened with soap and water or a mild household cleaner. Using this mixture, we suggest wiping the countertops down every day. Between each wipe, be sure to rinse the fabric or sponge with water thoroughly.
Granite
Granite is an incredibly durable, scratch-, stain-, and heat-resistant material that requires annual sealing to keep it in top shape. Though this may seem like a deterrent to an easy-to-clean countertop, it's far from the truth.
Because you can have experts regularly seal your granite countertops, the material easily resists bacteria buildup despite its porous nature.
All that is needed to maintain daily cleaning is a nonabrasive detergent and warm water. To increase disinfecting power, you can use the same solution with rubbing alcohol described for use with quartz. Avoid using abrasive cleansers and those containing vinegar and acidic ingredients that can dull your granite surface.
Premier Remodeling Solutions from Designer Marble & Granite
By abiding by our helpful guidelines, you can regularly prepare yourself to clean and sanitize your countertops without worry or fuss. Regardless of the type of countertop materials in your home, there are practical ways to ensure your home can be both hygienic and breathtaking.
At Designer Marble & Granite, our company's mission is to provide effortless installations to those who entrust us with their residential and commercial projects. Our expert team, which has over three decades of experience, offers specializations in countertops, tile/flooring, custom design features, and restoration services.
If you're searching for a new countertop to accentuate your home's aesthetic, feel free to contact us today.