Quartz countertops have become the top choice for people looking for a durable and beautiful option. Gone are the days of laminated surfaces and tiles—new homes are almost always built with sturdier materials such as quartz.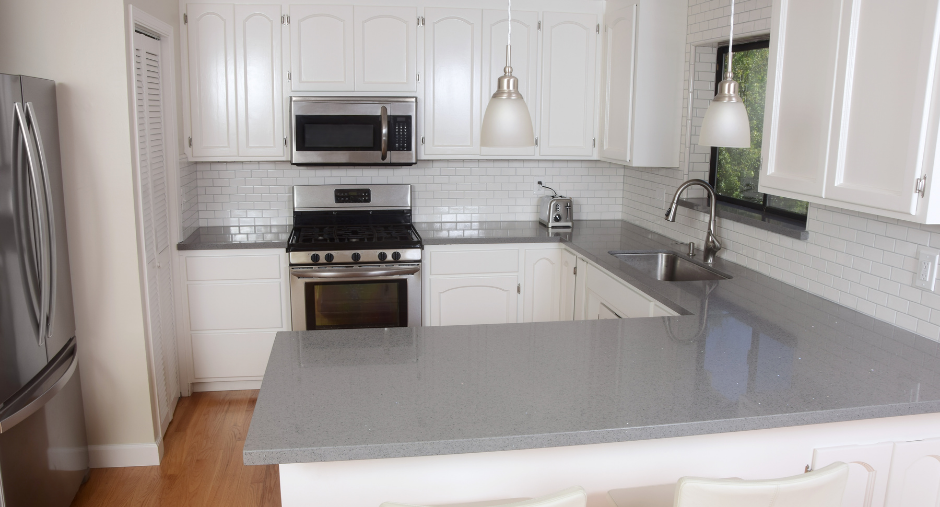 If you're planning on remodeling your kitchen, bathroom, or any other countertop area in your home, you may want to keep an eye on these quartz countertop trends for inspiration. 
Marble-Look Quartz Countertops
Marble has long been a popular but costly option for countertops. Quartz countertops are edging in as a more affordable marble look-a-like. The best quartz countertops of this variety have realistic veining and are available in the same natural tones you can find in real marble.
Popular options include Silestone Calacatta Gold, Caesarstone Calacatta Nuvo, Statuario Maximus, Q Quartz Carrara Grigio, and Cambria Ella. When properly installed, many homeowners—and their guests—can't even tell they aren't marble.
Book-Matched Quartz
What else does quartz have over marble? It makes the hot new book-matched style easier to achieve. Book-matched counters incorporate stone with nearly identical veining, creating stunning symmetry. It's most popular in countertop-backsplash couplings, as well as wall features.
Because many of the best quartz countertops are actually man-made, it's possible to create an endless supply of identical pieces, which makes executing the book-matched counter-trend a breeze.
Solid Color Quartz Counters
Sleek industrial kitchens are still standing in stark contrast against the country-farm trend, and both can benefit from solid-color quartz countertops. Again, as many quartz countertops are manufactured rather than naturally occurring stone, they offer the benefit of a broader range of colors—you can get quartz countertops in virtually every color!
Here at Designer Marble & Granite, we recommend choosing a neutral color. That way, if you decide to change up your kitchen décor to keep up with the latest trends, your countertops won't limit your options.
Sparkling Quartz
The other advantage of man-made quartz countertops? Elements not typically found in natural quartz can be added during the manufacturing process, and the biggest trend in 2021 is set to be a wee bit of sparkle.
Metal, recycled glass, crystals, bits of mirror, and Mother of Pearl, among other options, can be added to quartz to provide flecks of color or subtle spots that sparkle. If you're looking for the best quartz countertops to pair with the growing big-window trend, sparkling quartz is the way to go—when all that natural light hits them, it's magic. 
Custom-Shaped Quartz Countertops
Yet another advantage of quartz is that there's no limit to the shapes our designers can create. Some countertop materials are limited by slab-sizes. With quartz countertops, boring L-shaped counters with bulky nooks are falling to the wayside, making room for creative islands, moon-shaped breakfast bars, natural edges, and truly convenient layouts.
Custom-cut quartz countertops will definitely become more common as 2021 rolls on. What will you dream up?
Looking for the Best Quartz Countertops? We Have You Covered
When it comes to countertop contractors in Sarasota, FL, and the Tampa Bay area in general, you won't find better service or quality anywhere else. Call Designer Marble & Granite today at (941) 365-4209 for a free estimate.