Make This the First Step in Your Kitchen Makeover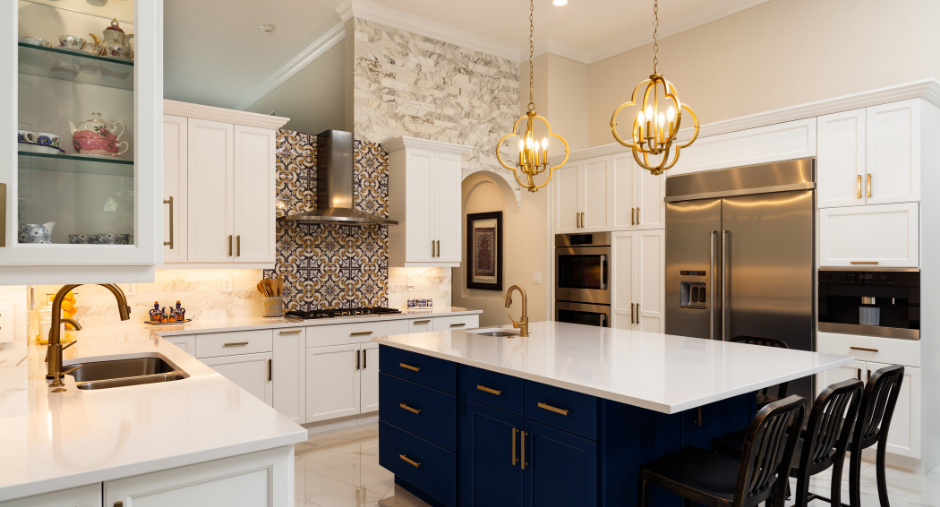 If you had to pick one type of natural stone countertop, what would you choose? Marble and quartzite are top picks for luxury, granite is a top pick for affordability and design versatility, and quartz is a top pick for design, ease of maintenance and durability. If you are planning to give your kitchen a makeover, you may be surprised at how much choosing your countertop material and design first helps the rest of your ideas come together. Here are a few points to consider that emphasize the importance of making your countertop selection early in the makeover process:
Coordinating Countertops and Cabinets
If you pick your cabinets first, you may find that the countertops you prefer do not look as good with them as you hoped. Fortunately, cabinet styles usually come in a variety of finishes. When you choose your preferred countertop material and style first, you will find that it is much easier to pick a style and finish for cabinets that look great with the countertop. For example, if you realize that you want white marble countertops after you choose rustic oak cabinets, you may realize that the cabinets look better with a medium or darker brown granite. If you are partial to white marble and choose that first, you may search for kitchen designs and find a style of cabinets that you like better and blend well with your preferred countertop.
Matching Countertops and Other Features
Once you know the material and pattern of the stone countertop you want, it is also easier to decide on other elements such as coordinating tile for walls, decorations and appliances. For example, if you have white countertops, you may want a coastal theme and white paint to brighten the room. You may decide on a monochromatic look with stainless steel appliances if you pick a black marble countertop. There are plenty of other pattern and theme possibilities to consider
Planning Countertops and Lighting
When you've chosen a specific countertop design, you can also plan the type of lighting that will highlight its beauty. For example, you may decide that recessed lights look better with your choice of polished granite in a darker color since the lights reflect on it and show off its beauty. If you choose polished white quartz, you may decide on a crystal chandelier for a bold look or covered pendant lights for a subtle look. You may want to use accent lighting to direct attention to special features such as a full height backsplash or a unique island façade. It will be easier to choose a complementary lighting design to work with your countertop choices and overall design aesthetic.
One important tip to remember as you approach these tasks is to look at a large piece of the material you want. When you only look at small squares of samples, it is harder to visualize what the result will look like in your kitchen. To give yourself the most realistic perspective, look at photos of larger slabs to get a better idea of the unique veining or other features that different patterns can have. These are not always apparent in small samples. Our team will be happy to show you larger slabs, project examples, and photos of materials you like, and to discuss your ideas with you. Give us a call at 941-365-4209 to learn more.
Superior Service and Quality Products
If we can be of any assistance with your project, please contact us today.